Yesterday was my second appointment.  I learned more about what 
precautions
 are going to be taken to help keep these babies from joining the party early once I get to 16-18 weeks.  Carrying twins is going to be an interesting experience.  So far it has not been hard, but I can already tell when I have over done it, or not drank enough for the day.  
Its funny how different pregnancy can be for each child. 
This one is 
already
 taking a toll on my body. Changes to my hair, nails, and I can never seem to get enough sleep.  I am hoping as the first trimester comes to a close, the exhaustion with go away and be replaced with more energy.  I would really like that.  Otherwise all is well.  The belly is growing.  And we are having fun attempting to pick names.  Even the kids are getting their say in this time too.  Here are some fun facts about these last few weeks. 
How far along: 11 weeks, today 
Have you started to show yet:  
Yes!!  There is no hiding it now!
Total weight gain/loss: 
down 6.5 lbs between the nausea and the flu from last month it took some weight off.  I eat, but I think the babies are using it faster than I can get it in.
Belly Button in or out?
 In
Rings on/off:  On as of right now.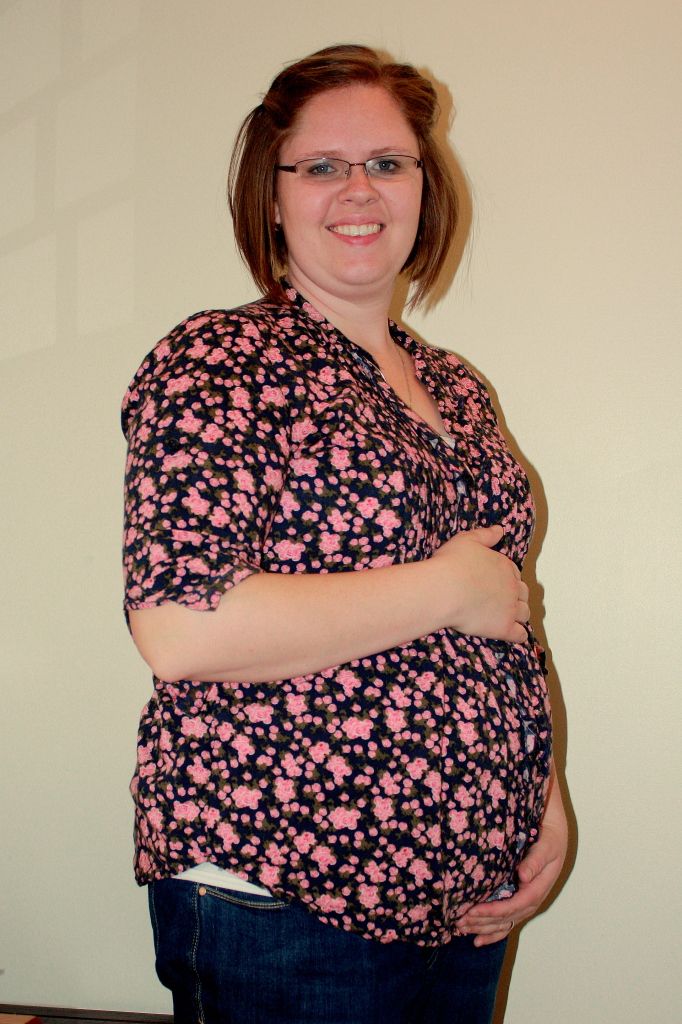 excuse the weird hair and cheesy smile...it was a long day
Size of Babies: The size of a fig this week.  So imagine two figs in there. :)
Weird Changes:  
The biggest is my hair.  I used to have wavy/curly hair with lots of body, that I always needed to make sure was done. Most of the curl disappeared after having our 3rd child.  Now, it completely straight and I don't have to do a whole lot to it to keep it straight like I used to.   
Maternity Clothes:
  The shirt I am wearing in the picture is actually a non-maternity shirt I happened upon for $3 at Meijer right before we found out we were expecting.  Pants from the last pregnancy from Old Navy, the only place you can find tall lengths in maternity jeans without spending an arm and a leg.   And I had to get a new belly band from Target to keep those pants up!
Sleep: Sleeping very soundly, but still getting up exhausted.  Getting up a few times a night to pee.
Best moment this week: Miss E kissing my belly and saying sorry to the babies after bumping into my tummy.  So precious!!

Movement:
Starting to feel little flutters!! :)
Stretch marks?
No new ones yet...hoping they don't appear for awhile.
Symptoms:

  Very tired and nauseous.

Food cravings: BEEF and Hamburgers!  It's seriously about the only thing that ever sounds good these days! Oh and fresh salads...I can't get enough.
Food aversions:
Fish, most sweets and sausage!

Pregnancy best friend:  My 64oz water bottle!  Trying to keep those fluids up!!
Gender prediction: 
We are taking guesses!!!
What I miss: Fish, especially with it being lent and all the fish frys going on.  Its just not fair...haha
What I am looking forward to:
 Hearing the heart beats for the first time!!  And my 12 week ultra sound!
Weekly Wisdom:
Sleep when you are able!!
Milestones:
a quarter of the way through the pregnancy!
Thanks for reading.  I promise once I get my energy back there will be some more fun posts.  But until then, you get to see how the babies are doing!  Have a wonderful weekend!