We had our 17 week appointment last Thursday (5/17/11 - 17 weeks 6 days).  Sorry for the delay in this post, its been a CRAZY couple of weeks.  Hopefully now though, things are going to slow down.  Anyway, the babies and I are doing very well.  The doctor was pleased with how things are going.  Heart rates were 151 and 145 - still one of the most exciting things to hear!  With the twins, they have started measuring me already.  So at almost 18 weeks, I measured out at 24 weeks or another comparison at 4.5 months I look like I am 6 months pregnant.  Honestly, I just laughed.  I am going to be huge!!!!

Within the last few days, I really have begun to "feel" pregnant with twins.  I know that's a funny way of saying it.  But certain things are becoming harder to do, and you don't really notice it right away.  For instance, it is already super hard to paint my toes.  While ironing a project this morning, the steam kept burning my belly. Its getting harder to carry the laundry baskets because my belly is "in the way." I am quickly running out of lap room for my other three kiddo to sit on.  And that's just to name a few things.  I know they are little things, but its kinda scary that this is happening so quickly.  In my other pregnancies, I wasn't feeling this way until right before we had the baby.  I guess I had better get used to asking for help.  I think I am really going to be needing it sooner than I thought.  I am still really excited about the babies, so don't get me wrong.  It's just hard accepting that I can't accomplish the things that I want to do easily.  


How far along: 18 weeks 5 days, today.  149 Days to go!!!! :)
Have you started to show yet:  

Yes!! And it's growing every day!
Total weight gain/loss: 

Still down about 2 lbs from starting, but have gained another 2 lbs.
Belly Button in or out?

 In
Rings on/off:  On as of right now.
Maternity Clothes: 

 Jeans, Shirt from Old Navy,  Necklace from my hubby on our first Christmas together while dating (boy that was a while ago....hahaha).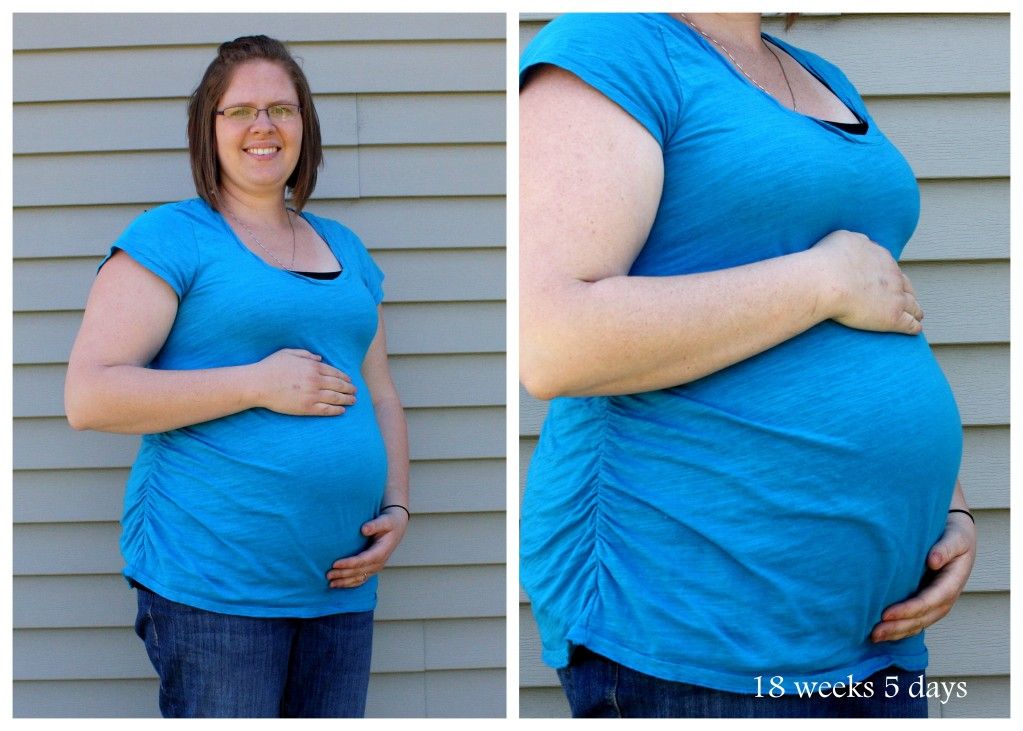 Size of Babies: About 5.5 inches. The size of a pear - So two, dancing, sweet little pears! 

Weird Changes:  Apparently this pregnancy is making my skin more prone to sunburn.  Yes, I do have fair skin to begin with, but never have I been the only one looking like a lobster after a few hours outside!!
Sleep: Sleeping like a rock!  We have been sooooo busy, that sleep has been coming very easy and making it really hard to get up in the morning or staying awake at night to hang out with the hubby.  
Best moment this week: Being told that you look pretty.  It's hard sometimes to feel pretty when you don't feel well, are tired and uncomfortable, and when you feel you look like a whale.



Movement:

The belly is starting to jump in different directions.  :)
Stretch marks? 

They are really becoming more pronounced.  
Symptoms:  Tired and easily worn out. 
Labor Signs: None and hoping to keep it that way for a long time.


Food cravings:
The last 2 weeks have been interesting.  I haven't had really an appetite for anything.  I am hungry, but nothing really sounds good.  I think it partly stems from some mild stress and the fact I am quickly running out of room for food.
Food aversions: 

Fish, most sweets still.
Pregnancy best friend:  Again my 64 oz water bottle!  With summer quickly on its way, it keeps me on track for getting my fluids in.
Gender prediction: 
Still taking guesses.  Thoughts on names anyone?? 
What I miss: Having a glass of wine with a special dinner.  Stupid I know!


What I am looking forward to: 

 Letting the kids feel the babies kick.  The kicks are stronger but still not enough to feel them really well on the outside.
Weekly Wisdom:
Watch out for the sun!!!! & Wear sunscreen! Guess I am going to need to invest in a floppy hat.  
Milestones: 
Getting closer to the half way mark.  (We are actually already there by, my personal delivery standards...but who counting? )